Seeing is Believing – Interactive Supermarket
Head into the supermarket, walk past the vegetables and then saunter towards the deli counter. What about some snacks or biscuits or maybe fresh orange juice? The Bridge at Hadley Learning Community in Telford has benefited from an amazing piece of immersive technology. Amazing Interactives uses a "REACH OUT" 3D system.  Their latest Life Skills Supermarket module bears an uncanny resemblance to Sainsbury's and lets pupils walk around, see products and feel as if they are really there.
The Bridge is a special school with 162 pupils aged 5 to 19 years. It provides for pupils with severe and profound learning disabilities.  Many of them have additional needs including physical difficulties, sensory impairment and autism. In addition, there is an assessment nursery for up to 40 part-time pupils, The school is also a Business And Enterprise College giving pupils a chance to find out about tourism, creative industries, fair trade and to run mini enterprises.
The Amazing Interactives software has proved very successful and led them in new directions. Originally they used it for life skills and way finding. Pupils had to navigate and find their way round, deciding which aisle to go down. They also had to identify products so for example, they were presented with a shopping list and had to find the ingredients needed to make a pizza. They also practised their Functional Skills e.g. maths, considering prices, working with money, till receipts and special offers such as 2 for 1, buy 2 get the 3rd free.
For some pupils it provided practice in going shopping. They could have a go before trying the real thing. However, some pupils do not cope with the bustle and noise of a real supermarket so the Amazing Interactives experience could help them get used to the environment or could provide an alternative experience.
Diane Hasell is assistant head of the Bridge school and reported that there were several unexpected advantages: "We received 3D cameras as part of the project and have been using them to film the students in a whole range of activities. We have also shared the technology with two local primary schools and a local private special school. In return, we get to use their grounds for some of our other projects. Although the Supermarket is an expensive technology, it is well worth the investment. It is not an entertainment nor edutainment but it certainly does entertain and engage our learners."
Meet the Chile Life/Music Therapy team at Chris Evert Children's Hospital
Kasey Castro, BS, Child Life Specialist, works on the pediatric oncology/hematology unit. Kasey serves on the Executive Board of the Florida Association of Child Life Professionals as Member at Large.
Caitlin Harrison, BS, Child Life Specialist, works on the general pediatric unit. Caitlin serves on the Planning Committee for the Florida Association of Child Life Professionals.
Laura Cornelius, MM, MT-BC, created the Music Therapy program through a grant. Due to her talent and creativity, Laura is now a tenured member of the staff. Laura is a NICU certified Music Therapist and has recently become International Neurologic Music Therapy Certified. In her spare time, Laura and her dog Chewy are certified Pet Assisted Therapists.
Ann Fogel, MA, Child Life Coordinator, has been a CCLS since 1982. She has been a Mentor in the Leadership Development Institute sponsored by the CLC through a grant from Disney this past winter. Happily married for almost 30 years, she is the proud mother of 12 year old Hope.
The newest technology at Chris Evert Children's Hospital (CECH) is the Pediatric Virtual Distraction System (V-Pod) used to help children cope with painful and threatening treatments. This 3- dimensional video game, guided imagery, play provoking opportunity decreases anxiety and perceived pain in children, reducing the need for extended or repeat procedures or sedation.
Procedures and/or treatments that the V-pod distraction system is used for in treatment rooms as well as at a patient's bedside include venipunctures, lumbar punctures and bone marrow aspirations.
As you know all too well, children in the hospital often have to undergo painful and scary treatments and procedures. The anticipation of these treatments is often stressful for the child compounded by physical pain associated with these common procedures. If the pain level is too high, or the child becomes too anxious, they may become non-compliant or uncooperative, causing treatments to be rescheduled or duplicated if unable to be completed. This creates additional stress on the child, those that care for them and the medical team. This additional anxiety is heightened as they anticipate another miserable experience. In addition, medications used to alleviate pain may have adverse side effects or negative reactions in children. There is a need to utilize play in all forms, promoting non-invasive, non-pharmaceutical methodologies alleviating pain and anxiety during procedures of all varieties. We are proud to add the V-Pod distraction system to our menu of coping strategies alongside Music Therapy, Pet Assisted Therapy, Expressive Arts and Child Life Therapy interventions to benefit our pediatric patients.
Revolutionary equipment will distract youngsters from pain at Sunderland Royal
WEARSIDE'S youngsters need not fear a trip to A&E after a new system to distract them from painful treatment was installed at Sunderland Royal Hospital.
Following fund-raising from the Children's Foundation, the 3D Vpod Pain Distraction Unit is now available to use.
The display unit shows both 2D and 3D moving images as a way of reducing stress and relaxing children
The unit has been used in a trial at The Royal for the past couple of months after being well received by families.
According to Government child health figures, Sunderland has more than double the number of A&E attendees in the zero to four age range compared to the national average.
St Benet's school pupil Jessica Summerside, 10, was brought in by her dad Paul following an accident in a pizza shop.
"She just banged her hand on the pizza shop counter and injured her middle finger," said Paul, 51, of Roker.
"Nothing's broken and she just needed a splint, but it can be really stressful for the child and parent to go "I didn't know about the distraction unit, it's fantastic.
"You can take the child's mind off their treatment and it puts the parent's mind at ease."
Pauline Palmer, paediatric matron at the Royal, said: "Our staff on Accident and Emergency have found it very useful, especially during painful procedures like cannulation and it has been well received by the children.
"Additionally, they have found that the children like it in 2D so they are using for smaller children who can't wear glasses."
Chief executive of the Children's Foundation, Peregrine Solly, said: "Our programme of fund-raising for these units is now in its third year and we're in discussions with the NHS so that they can become used in more hospitals.
"We've had them at hospitals in Newcastle and we think it's a real world-first so now we want to be more readily available."
The hospital is now hoping to install three further units, another two in the children's in-patient wards and three for the Niall Quinn Centre, which is just off Kayll Road.
Mini 3D Pain Distraction unit is a "World First"
A very special piece of equipment has been delivered to the Cambridgeshire Community Services NHS Trust's Children's Unit based at Hinchingbrooke Hospital.
The mini, mobile 3D Interactive Pain and Anxiety unit, a world first, was designed to fit into a suitcase by Amazing Interactives Ltd, a company that specialises in the development of interactive 3D content and hardware solutions.  The unit is designed to distract young patients during clinical treatments.
Anne-Marie Hamilton, Chairman of the 'dreamdrops' fundraising committee said: "I approached Amazing Interactives to see if it was possible for them to design a mobile unit for use in the local community.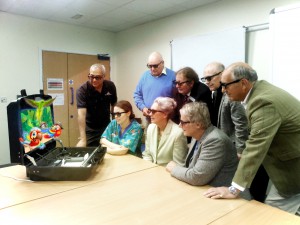 "This project has taken 18 months to come to fruition, with a lot of time and effort going into the whole project not only by the NHS and Amazing Interactives, but also with help and guidance from Tony Moss, a computer expert from the Rotary Club of Kimbolton Castle, as well as other members of the club.
"We would like to say a huge thank you to the Rotary Club who kindly offered to purchase the system for us.  The machine is incredible and will revolutionise children's treatment.  It is causing a real interest in other areas of the NHS, with one London hospital already interested in purchasing a unit."
Mags Hirst, play specialist, Cambridgeshire Community Services NHS Trust, who piloted various prototypes of the machine out in the community before the final design was agreed, said: "We requested a truly mobile unit which could be taken out in a car to a patient's home.
"Feedback is very positive and the unit will benefit children and young people who are having home based treatment such as wound dressings, as it provides a distraction to the child without getting in the way of the nurse.  It's a really innovative piece of equipment and it will make a huge difference to the care we offer our patients."
Geoffrey Lloyd from the Rotary Club of Kimbolton Castle said: "We were delighted to support the 'dreamdrops' charity and to be able to raise funds for the new unit.
"We are pleased to support this first unit of its type in use in the world, which is a great achievement for all involved. The equipment is stunning and will help to reduce any anxiety felt by the children during their medical procedures."
(3D Photograph provided: Pravin Jethwa, Sales Director, Amazing Interactives; Liz Sloman, play specialist, Cambridgeshire Community Services NHS Trust, Members of the Rotary Club of Kimbolton Castle and Anne-Marie Hamilton, Chairman of dreamdrops).
3D equipment helps ease suffering of young patients at Great North Children's Hospital
Revolutionary 3D equipment is helping ease the suffering of young patients at the Great North Children's Hospital. The pain-distraction unit has been bought for the centre, based at Newcastle Royal Victoria Infirmary, in a bid to help patients undergoing a variety of procedures. Known as a Vpod, the equipment, now in operation on Ward 1A, is playing a pivotal role in helping reduce stress, encourage relaxation, and provide a for children receiving clinical treatments.Young patients such as Jaeden Jessers, six, who has been a patient on the ward since last October
Jaeden had a bone marrow transplant two years ago but has been a resident on the ward more recently after he picked up a number of infections and having nutritional problems. It means the youngster has not grown at the same rate as other children his age.
Jaeden's mum, Stef Cockerham, 27, says the new equipment has helped her son while he has been undergoing treatment. She added: "He is able to play games on it and, if we put the glasses on, we can see everything in 3D which proves a good distraction when he is getting treated." The Vpod has a selection of programs including pirates and princesses' games.
Tracey Gothard, play specialist from Ward 1A, said: "I have wanted a 3D Vpod for a long time now, as I have seen how great they are at distracting the children from what is happening to them in the treatment room. "We have the largest ward here in the GNCH with 21 beds, and most children usually staying in for sometimes six months, nine months or even a year. You can imagine how unhappy they are about having the bloods taken daily, or having long or central lines inserted.
"We do have many techniques for distracting the children but this 3D technology is unlike any other piece of equipment, we've used.
"By putting on the 3D glasses they are transported to a different world. It also gives us a great a talking point with nervous parents too. It breaks down the barriers and allows us to carry out the procedures swiftly."
Allana Parker, eight, from Walker, who suffers from Cystic Fibrosis and is a regular patient on Ward 1A – used the Vpod during her stay. Alex Simcox, 33, Allana's mum, "Allana's Cystic Fibrosis means she suffers badly from lots of chest infections and horrible bugs, which have such a serious effect on her."
"When she is in hospital, on a daily basis she will have many and sometimes painful procedures, lasting as long at 40 minutes. The new 3D Vpod has been great for her."
The equipment was provided for the ward thanks to money raised by The Children's Foundation Christmas activities last month. Libby Nolan, fundraising manager for the Foundation, said: "Without local businesses, schools and volunteers we wouldn't have been able to raise over £9,000."
"This will be used in the North East and Cumbria providing practical support and resources for children, their families and the people working with them – such as providing much needed equipment for the Great North Children's Hospital."